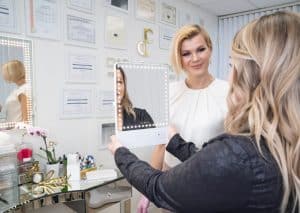 Permanent Makeup (Eyebrows). Tips & Advice For Actresses, Models, Artists by Daria Chuprys Permanent Makeup Academy & Studio – Beverly Hills
Daria Chuprys is a world renowned leading trainer and pioneer of the unique Microblading hand method technique; located in Beverly Hills and Athens. Her attention to
detail and precise hairline stroke placement methodology achieves the most realistic eyebrow tattoos in the world. Her reputation for excellence has attracted celebrities and media influencers from all around the world. She has been perfecting the Microblading and manual shading technique for seven years now. She strongly believes in a
sound fundamental education, dedication to practice, and continuing education throughout a Permanent Makeup Artist's career. There is always room forgrowth to expand your mind and technical abilities. Daria graduated with a degree in Business Administration, which led her to the beauty industry. She started off as an Eyelash Extension Artist in 2009. Then a Makeup Artist in 2010. In that same year, she found the Permanent Makeup Industry and fell in love. Today, Daria is an SPCP Certified Permanent Cosmetic Professional (CPCP), an SPCP Trainer Member, and continues to advance her technique and craft every day. Daria travels the world as a keynote speaker, and to train other Permanent Makeup Professionals. With her background as a Makeup Artist, her skill sets for the Ombre technique flow effortlessly. She is able to create soft and natural looking eyebrows. Her experience in Microblading and Ombre allows her to provide knowledgeable advice to both clients and students. To embellish her technical and training programs, and to bring the very best products to the industry, Daria has created a line of tools that many professionals use to help them achieve the perfect eyebrow.
Any opinions, advice, tips, statements, services, offers, or other information or content expressed by third parties, including information providers or users of the Site, are those of the respective author(s) or distributor(s) and not of Hollywood Connections Center. Neither Hollywood Connections Center nor any third-party provider of information guarantees the accuracy, completeness, or usefulness of any content, nor its merchantability or fitness for any particular purpose.
In many instances, the content available through the Site represents the opinions and judgments of the respective user or information provider not under contract with Hollywood Connections Center. Hollywood Connections Center neither endorses nor is responsible for the accuracy or reliability of any opinion, advice or statement made on the Site by any third party. Under no circumstances will Hollywood Connections Center be responsible or liable, directly or indirectly, for any loss or damage caused by your use or reliance on information obtained through the Site. Hollywood Connections Center is not responsible for any actions or inaction on your part based on the information that is presented on the Site. It is your responsibility to evaluate the accuracy, completeness or usefulness of any information, opinion, advice or other content available through the Site. Please seek the advice of professionals, as appropriate, regarding the evaluation of any specific information, opinion, advice or other content.